Ontario Canada Duck and Goose Hunt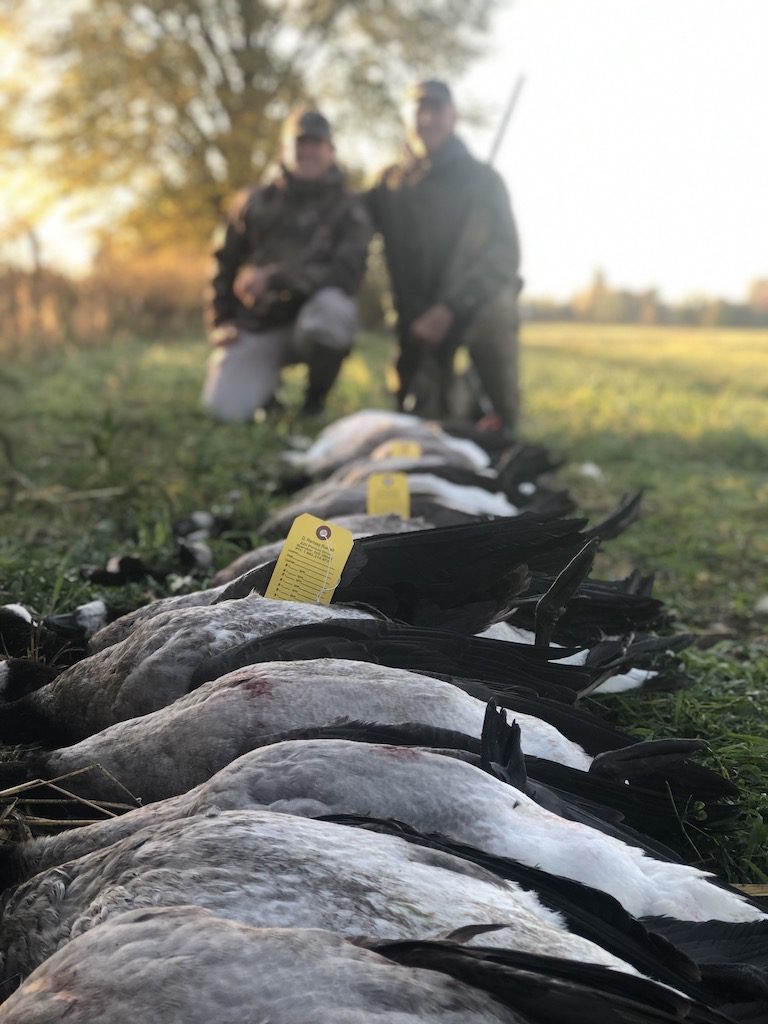 Guided Ontario Canada Duck and Goose Hunting in major Canadian waterfowl migratory corridor formed by sandwiching a massive grain agriculture landscape between the impressive St. Lawrence and Ottawa rivers, where impressive Canada geese and duck numbers usually persist for the entire season. Now entering their 6th hunting season in operation, APEX Waterfowling produces generous, 5-bird Ontario honker limits about 99% of the time, and duck limits more times than not.
Ensuring that each group remains the singular focus, a small but extremely experienced and professional staff hosts single client teams of 4-8 at a time, never mixed groups.  A full-time guide, a full-time chef, and a full-time scout have 10-plus years apiece under their belt, and are committed to delivering the best guided Ontario Canada duck and goose hunt possible. Owner-operator Ryan Reynolds holds 12 national Calling Titles, 4 Canadian Calling Championships, hosts the Canadian Duck and Goose Championships each year; is co-founder and co-owner of Capital Waterfowling, Canada's largest duck and goose call manufacturer. He's been a professional waterfowl guide for 15 years, having guided all across Canada, and presently sits on Wildlife Habitat Canada's board of directors..
These Ontario Canada waterfowl hunts are conducted over a combination of dry-field and water sets, depending on scouting reports and targeted species. Canada geese and mallards, along with black ducks, are the real stars of the show, but other common species include lesser scaup, redheads, teal, wood ducks, long-tailed ducks and common goldeneyes. Over new-each-season, top-of-the-line decoys, all hunts are conducted from A-frame blinds ensuring that hunters of all ages and mobility can make the most of shooting opportunities.
"Our roots run deep in the area and we have profound relationships with local farmers, have many thousands of excellent, private-land leases under wraps," says Ryan, "but as important is our transparency with clients. We don't just stick them in a field, but we discuss priorities, options, and the factors at hand."
Guests are lodged in a full house with private rooms, numerous bathrooms, all the normal creature comforts of home, and located conveniently within about 15 minutes of hunting locations. Chef Andrew Rochon treats guests to 3 full meals daily to include savory chili and hearty subs lunches, and the client-favorite braised beef short ribs dinner.  Import your favorite shooting iron, or conveniently use one of theirs.
Guided Ontario duck and goose hunts with Apex Waterfowling are "Where Professionalism and Class Meet the Outdoors." Located within convenient driving distance of key Atlantic Flyway states, where Canada goose and mallard limits were slashed for the 2019-2020 season, this Ontario Canada Duck and Goose Hunting package offers a reasonable alternative. For more information or to discuss dates, contact Ryan Reynolds at 613-453-8224, email apexwfinc@gmail.com.