Mississippi Duck Hunting – Tallahatchie Hunts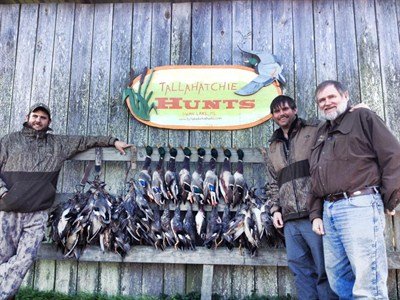 Mississippi duck hunting at Tallahatchie Hunts offers a superior combination of friendly, experienced guides, comfortable private lodging, and enviably consistent duck hunting on some of the most coveted duck habitat in Mississippi. Look no further than Tallahatchie Hunts for the very best Mississippi duck hunt available.
Location, location, location! Tallahatchie County, long-recognized as a top duck producer, is a waterfowl utopia; a landscape of rivers, sloughs, bayous and low-lying agricultural cropfields of soybeans, rice and milo. The Tallahatchie, Coldwater and Yacona rivers, which drain the northern portion of Mississippi, converge here. Backwater flooding is common during the winter months, at times forming largest contiguous fresh waterbody in the Continental United States. Nearby state and federal refuges provide resting areas and sanctuary. Consequently, Tallahatchie County consistently maintains large numbers of waterfowl throughout duck hunting season – as proven by the highest number of legband recoveries from throughout Mississippi.
Tallahatchie Hunts maintains 90+ duck holes on over 8,000 acres where owner Mike "Catfish" Flautt, one of the friendliest and most professional Mississippi duck hunting outfitters you'll ever meet, has hunted for over a half-century. Forget fancy, overhunted heated blinds – these Mississippi duck hunts take place where the ducks are each morning, usually in flooded agricultural fields or cypress-tupelo brakes where natural cover offers perfect concealment while hunting from pit blinds, skid blinds, on dry ground or while hugging a tree in knee-deep water.
The morning begins at the Flautt home at 5:30 for hot coffee, sweet rolls, and to review the morning's hunt plan. Hunting spots are only 10-15 minutes away and guests are conveniently driven right up to the blind where they may get settled while guide-staff deploy a fresh decoy spread.
Here on the wintering grounds, waterfowl plumage is beautifully prime. While Mallard comprises over half the annual seasonal bag of this Mississippi duck hunt, other common species include: Wood Duck, Northern Pintail, Green-winged Teal, Gadwall, American Wigeon, Northern Shoveler, Canvasback, Ring-necked Duck, Redhead and more.
Tallahatchie Hunt's Mississippi duck hunting package is perfect for groups of 2-10 hunters, with 4 hunters per group being ideal. Full-package groups are lodged in comfortable private houses nearby. After the morning duck hunt, all guests are invited to for one of Mrs. Emma's world-class, southern breakfasts to include eggs, bacon, sausages, grits, casseroles, fruits, breads, coffee, soft drinks and juices.
Package upgrades include afternoon hunting for quail and pheasants, or trophy deer – and if there's a more exciting place to chase rabbits with beagles than the Mississippi Delta, we've not yet found it! Catered dinners are also optionally provided. Nearby non-hunting activities include the historic Alluvian Hotel & Spa and Viking Cooking School in Greenwood, an array of casinos, golf, sporting clays and 5-star restaurants in Tunica, and the Mississippi Blues and Delta Blues Tours in Clarksdale.
Tallahatchie Hunts' guided Mississippi duck hunts demonstrate 95% client retention. They are host to the prestigeous Mississippi Governor's Charity Hunt (2007-present) and the annual Mississippi Ducks Unlimited Greenwing Hunt (2005-present).

For more information or to book your Mississippi duck hunt, contact TallahatchieHunts.com:
Mike "Catfish" Flautt at (662) 375-2116 or catfish@tallahatchiehunts.com
Timing
Mississippi duck hunting season usually runs from late-November through the last Sunday in January. Peak dates are usually mid-December through mid-January.
Rates
$1,500 standard 3-day guided Mississippi duck hunt
Daily rates $500 with lodging, $350 without lodging.
Combo duck and quail with lodging $700
Youth hunter discount 50%.  Non-hunters $100 daily – FREE as part of larger groups.  Ask about large-group discounts.
Trophy Mississippi Deer Hunts $500/day plus trophy fees
Afternoon quail and pheasant hunting $300/gun, includes 12 quail and 4 pheasants.
Terms: 25% deposit to reserve dates, balance due on arrival.
Included
All guided Mississippi duck hunting packages at Tallahatchie Hunts include: morning guided duck hunts, transfers to hunting blinds, use of washer/dryer, morning brunch, use of dog runs.
Not Included
Guided Mississippi duck hunting packages at Tallahatchie hunts do not include: Mississippi licenses and stamps; airport transfers (may be arranged); firearms and ammo; bird cleaning ($3 per) or game cleaning/caping services (additional fees apply); gratuities to the guide (20% suggested).
Details
Getting There
Tallahatchie Hunts' Mississippi duck hunting lodge is located in Swan Lake, MS, just south of Webb. Nearest commercial flight services are located in Memphis, TN, Jackson, MS, and Little Rock, AR.  Private/charter flight services may fly directly to Greenwood, Charleston, Clarksdale or Grenada, MS.
Guests may arrive the night preceding or the morning of their scheduled hunt.  Guests check-out at noon following their last morning's hunt.
What To Bring- Duck Hunt in Mississippi
Warm waders and waterproof parka, face mask or paint, base layers, gloves, headlight, shotgun choked IC to M, non-toxic ammo such as 3-inch magnum steel 3s, blind bag.  Duck hunting in Mississippi requires a Mississippi small game license, HIP certification, state and federal waterfowl stamps.
Retriever Policy – Mississippi Duck Hunts
Obedient retrievers are welcome.  Bring your retriever or hunt over your guide's experienced lab.
Related Links – Mississippi Duck Hunting & Tallahatchie Hunts
Tallahatchie Duck Hunts, Huntingnet.com
The Outdoor Channel OUTFITTERS SHOWCASE discovers the Free State of TALLAHATCHIE HUNTS man Michael "Catfish" Flautt, thedeltabohemian.com
Tallahatchie Hunts Facebook Profile
Mississippi Duck Hunting Regulations
Mississippi Duck Hunting License Sales Online
Videos
Photos
References
Jeff Morgan, Chattanooga, TN (423) 266-6218
Bob Ledbetter, Rome GA (706) 346-7406
Bill Ragon, Jackson, TN (731) 217-4699
Mary Pennington, Baton Rouge, LA (225) 324-8484
RJ Irving, New Brunswick, Canada (506) 850-1196
Book This Hunt Direct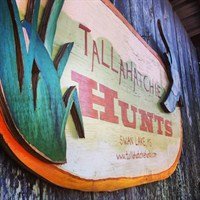 For more information or to book your Mississippi duck hunting trip, contact Tallahatchie Hunts:
Mike "Catfish" Flautt
call: (662) 375-2116
email:catfish@tallahatchiehunts.com