Mississippi Duck Hunting – Tallahatchie Hunts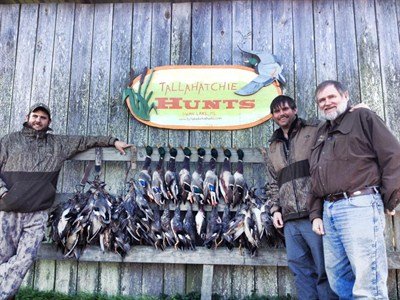 Mississippi duck hunting at Tallahatchie Hunts offers a superior combination of friendly, experienced guides, comfortable private lodging, and enviably consistent duck hunting on some of the most coveted duck habitat in Mississippi. Look no further than Tallahatchie Hunts for the very best Mississippi duck hunt available.
Location, location, location! Tallahatchie County, long-recognized as a top duck producer, is a waterfowl utopia; a landscape of rivers, sloughs, bayous and low-lying agricultural cropfields of soybeans, rice and milo. The Tallahatchie, Coldwater and Yacona rivers, which drain the northern portion of Mississippi, converge here. Backwater flooding is common during the winter months, at times forming largest contiguous fresh waterbody in the Continental United States. Nearby state and federal refuges provide resting areas and sanctuary. Consequently, Tallahatchie County consistently maintains large numbers of waterfowl throughout duck hunting season – as proven by the highest number of legband recoveries from throughout Mississippi.
Tallahatchie Hunts maintains 90+ duck holes on over 8,000 acres where owner Mike "Catfish" Flautt, one of the friendliest and most professional Mississippi duck hunting outfitters you'll ever meet, has hunted for over a half-century. Forget fancy, overhunted heated blinds – these Mississippi duck hunts take place where the ducks are each morning, usually in flooded agricultural fields or cypress-tupelo brakes where natural cover offers perfect concealment while hunting from pit blinds, skid blinds, on dry ground or while hugging a tree in knee-deep water.
The morning begins at the Flautt home at 5:30 for hot coffee, sweet rolls, and to review the morning's hunt plan. Hunting spots are only 10-15 minutes away and guests are conveniently driven right up to the blind where they may get settled while guide-staff deploy a fresh decoy spread.
Here on the wintering grounds, waterfowl plumage is beautifully prime. While Mallard comprises over half the annual seasonal bag of this Mississippi duck hunt, other common species include: Wood Duck, Northern Pintail, Green-winged Teal, Gadwall, American Wigeon, Northern Shoveler, Canvasback, Ring-necked Duck, Redhead and more.
Tallahatchie Hunt's Mississippi duck hunting package is perfect for groups of 2-10 hunters, with 4 hunters per group being ideal. Full-package groups are lodged in comfortable private houses nearby. After the morning duck hunt, all guests are invited to for one of Mrs. Emma's world-class, southern breakfasts to include eggs, bacon, sausages, grits, casseroles, fruits, breads, coffee, soft drinks and juices.
Package upgrades include afternoon hunting for quail and pheasants, or trophy deer – and if there's a more exciting place to chase rabbits with beagles than the Mississippi Delta, we've not yet found it! Catered dinners are also optionally provided. Nearby non-hunting activities include the historic Alluvian Hotel & Spa and Viking Cooking School in Greenwood, an array of casinos, golf, sporting clays and 5-star restaurants in Tunica, and the Mississippi Blues and Delta Blues Tours in Clarksdale.
Tallahatchie Hunts' guided Mississippi duck hunts demonstrate 95% client retention. They are host to the prestigeous Mississippi Governor's Charity Hunt (2007-present) and the annual Mississippi Ducks Unlimited Greenwing Hunt (2005-present).

For more information or to book your Mississippi duck hunt, contact TallahatchieHunts.com:
Mike "Catfish" Flautt at (662) 375-2116 or catfish@tallahatchiehunts.com