Delaware Duck Hunting
Delaware sea duck hunting with Capt. Brian Roger's Fowl Intensity Outfitters entails friendly, knowledgable, and highly-personalized seaduck duck hunts in Delaware for 2 to 4 hunters; it's more like duck hunting with a friend that takes your experience personally. This program is where passion meets preparation to create fun and successful seaduck hunting memories. Unlike other venues, you'll feel like you've got the place to yourself because you do – rarely if ever will other duck hunting boats be encountered at the boat ramp.
Fowl Intensity Outfitters Delaware sea duck hunting specializes in the scoters (Common, Surf, and White-winged) and Long-tailed Ducks (still oldsquaws to us older guys) that have long over-wintered in this historic waterfowl region. Atlantic Brant and American black ducks round out the collector's list of species. They, along with Canada geese and mallards for which Delmarva's Eastern Shore are famous, provide afternoon hunting opportunities or for a solid Plan B during the occaisonally inevitable mornings that dangerous sea conditions preclude seaduck hunting. This operator's mobility, keen knowledge of the area, and dedication to enjoyable client experiences ensure a full day of hunting.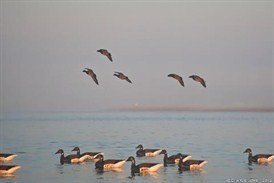 From a new, 23-foor War Eagle boat and a 2-man MLB Kevlar layout, seaducks are hunted with traditional longline sets of custom decoys. Depending on weather conditions, scouting reports and guest preferences, seaducks are hunted near rock piles or over oyster beds. Atlantic Brant hunts are from shoreline blinds, preferably on falling tides.
Atlantic Brant are plentiful – Capt. Brian likes to look for legbands as decoying flocks swing over his customized rigs and chances are good. Oweing to Capt. Brian's experience knowledge of the area, he has exclusively assisted the USFWS Joint Seaduck Venture with banding and research efforts.
The ideal Delaware sea duck hunting trip is 2-3 days. Hunting is not allowed on Sundays. Solo bookings are possible. Guests can either drive up, or fly into Baltimore Washington International and rent a car. The drive to the hotel is only 1.5 hours away.
Guests may choose from a selection of nearby hotels and restaurants. Scoter and brant limits are the norm when weather cooperates. Beyond excellent seaduck and brant hunting, a full-range of interesting non-hunting activities are located within a couple of hours to include Bombay Hook National Wildlife Refuge, the Madison Mitchell Museum, The Ward Museum of Wildfowl Art, the Baltimore Aquarium and, a little further, Washington DC.
Fowl Intensity Outfitters is where personal passion meets dedicated preparation to create successful sea duck hunting. For Delaware sea duck hunting and brant, this is you're outfitter. Contact Capt. Brian Rogers at (302) 745-7269 or email fowlintensityoutfitters@yahoo.com to plan your trip.