Ramsey Russell meets with Mississippi Congressional delegates to promote waterfowl conservation efforts in the Lower Mississippi Delta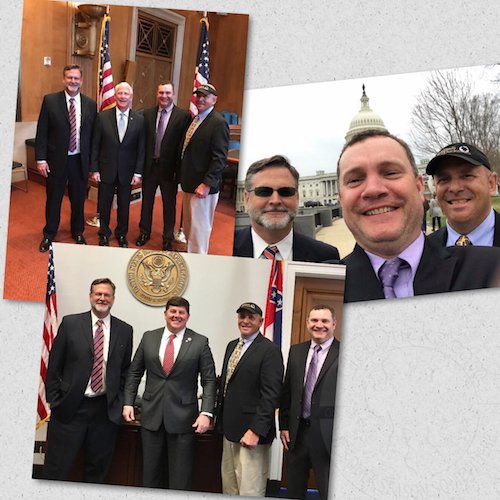 Ramsey Russell, GetDucks.com, attended a fly-in sponsored by Vanishing Paradise in March 2017.  Biologists, outdoors-related businessmen and other stakeholders from throughout the entire Mississippi River watershed convened in Washington D.C. to advocate restoration of the Lower Mississippi River Delta.
For North America's ducks and geese, the wetlands of the Gulf Coast, and in particular the Mississippi River Delta, are vital. Every winter, the delta and Chenier Plain of Louisiana-Texas hosts around seventy percent of the waterfowl that use the Central and Mississippi flyways—as many as 10 million waterfowl in a given year.
"Spending time duck hunting in Louisiana's fabled coastal marshes makes it way too easy to forget that this region is truly a vanishing paradise; one of the most important habitats for over-wintering waterfowl in the central United States, yet also the most imperiled," says Ramsey.
The 2015-2016 duck season underscores the importance of this resource to our continental population of waterfowl.  The Ark-La-Miss region was gripped with a 100-year drought. Everyone that could pumped water, but it wasn't near enough to sustain waterfowl. Everywhere that had water held hunters; the birds had nowhere to go to fulfill life-cycle requirements of eating, resting or maintenance. Most overflew Arkansas, Mississippi and northern Louisiana for the coastal marsh. "It made for a dismal hit-or-miss season for many duck hunters – hunting pressured birds is never easy – but many of our green-wings, pintails, and gadwalls returned towards the end of the season when we finally had more water across landscape. It made for a phenomenal ending to the season," Ramsey described.
Meeting with members and staff of Mississippi's Congressional delegation, Ramsey, Eric Crosby, Top Brass Tackle owner, and Lew Carpenter, Vanishing Paradise representative,  explained the importance of the lower delta from their own perspectives.  Mississippi is extremely blessed with representatives that are committed to wildlife conservation.
The Vanishing Paradise program was launched in 2009 by Ducks Unlimited and National Wildlife Federation to advocate for restoration of the Mississippi River Delta by nationalizing the issue, raising awareness, and educating members of Congress. Creating a sustainable future for the fish and wildlife habitat of coastal Louisiana and the entire Gulf Coast requires all the tools in the toolbox and genuine commitments to restoration.
The coastline is disappearing at a rate of one football field every hour. For America's sportsmen and women, this is a conservation crisis of national importance. Decades of mismanagement and the 2010 Gulf oil spill have wreaked havoc on Gulf Coast habitats. Restoration efforts are underway in each of the Gulf States, using once-in-a-lifetime funding opportunities from the BP oil spill legal settlements.
"We hunters are undoubtably America's foremost wildlife conservationists. We absolutely put our time and money where our mouths are. Waterfowl are a national treasure, and their cycle requirements span the entire flyway. The challenges of restoring the Lower Mississippi River Delta is an opportunity for us to collectively think beyond our respective state lines and to work together for the benefit of OUR waterfowl," Ramsey explained.