GetDucks provided a supremely accurate description of the package. Though we were cautious due to prior experiences with other organizers, this trip was a huge success and a good a trip as I have ever been on.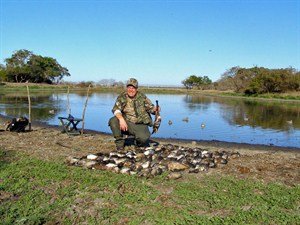 "All the birds were killed with 2 3/4" shells. Had we not thrown restraint to the wind, we quite possibly could have limited out with 20 birds per person in 20 minutes. When is the last time you let a drake go by in Ohio because you didn't think it was feathered very well? I never dreamed I could restrain myself,  though I did shoot some stupid birds just to take them out of the gene pool. Just doing my part for the betterment of the sport!
My wife, Diane, explained to me the we need to start saving for the next Mazatlan duck hunting trip while she took one last look around the resort. She claims that I can keep hunting ducks if I include her in trips like this.  Well, we should all have trips go this smooth and be able to get along as well as we all did. All the wives want to go back. I know for a fact that if anyone would suggest a trip back there again, the girls would probably start packing before the sentence was completed.
GetDucks provided a supremely accurate description of the package. Though we were cautious due to prior experiences with other organizers, this trip was a huge success and a good a trip as I have ever been on.  But there is one complaint – you should have convinced us to stay a day or 2 longer!  No one in the group felt like heading home. We will all be rested up to go back to work on Monday, but our thoughts will be back in Mexico.  This was a relaxing experience, with moments of intense shooting. Don't get better than that.  Many thanks Ramsey & Anita Russell. You both did damned good."
Warren Ackerman
Referenced Hunt: Mazatlan Mexico Duck Hunting