Timing
Prime dates for bagging waterfowl trophies with excellent plumage are from mid-January through the late-February.
This particular Mazatlan Mexico duck hunting package is an excellent couples retreat.  What better way to spend a weekend in February than experiencing Mexico's abundant sunshine with friends? There are plenty of activities for hunters and non-hunters alike, the temperatures in February are in the mid-80s, and the sounds of five-foot waves pounding sand sets a relaxing tone.
Rates
Rates for Mazatlan Mexico Duck Hunts:
3 Day / 4 Night, Mazatlan Mexico Duck hunt: $2,570
4 Day / 5 Night, Mazatlan Mexico Duck hunt: $3,195
Non-hunting companions are FREE and share room at no additional cost.
Extra nights $110
King Suite upgrade $POR
Minimum 3-day packages only.  There are no 1- or 2-day Mazatlan Mexico duck hunting packages available. If staying in a time-share or off-site, please call to discuss 3- and 4-day package rate discounts.
ALL PRICES PLUS 16% VALUE ADDED TAX
Deposits: A 50% deposit of hunt price is required to reserve hunt dates. Hunt balances are due 60 days prior to the hunt.
Field Report
Great shooting is expected, but the kinds of feedback below best demonstrate this Mazatlan Mexico Duck Hunting package's annual popularity:
Bringing me along on your Mazatlan Mexico duck hunting trip could backfire – I might not let you go hunting there without me again!  I can still hear the waves pounding the beach just outside our patio door, I'm craving Tamazula Shrimp from Los Arcos and that 80-degree weather was much better than the snow back home!  You shot ducks and I enjoyed a great beach vacation. How about some more couples packages from GetDucks.com in the near future!  ~ Anita Russell, GetDucks.com Travel & Administration
"Just a note to say thank you for the great trip to Mexico (Mazatlan Duck Hunt). The accomodations were great and the view from our balcony was priceless.  It was so nice to meet you and Anita." ~ Jackie Beck, Non-hunting Spouse
More Info
Getting There – Mazatlan Mexico Duck Hunting
Direct flights daily directly into Mazatlan, Mexico (MZT).  Alaska Airlines, American Airlines, Continental, Delta, Frontier, Mexicana, Northwest Airlines, Sun Country Airlines, US Airways and WestJet handle international traffic to and from Mazatlan, Mexico, with flights from the US cities of Los Angeles, San Francisco, Phoenix, Denver, Houston, Minneapolis.  We will personally arrange round-trip hotel transfers via a tour operator and air-conditioned vans, or you may opt to take a taxi.
Itinerary – Mazatlan Mexico Duck Hunting
Following your last hunting day, enjoy a final night in Mazatlan.  Airport transfers are usually mid-late morning (about 3 hours preceding you scheduled flight time), and international departure time are early- to mid-afternoon.
Trophy Duck Species – Mazatlan Mexico Duck Hunting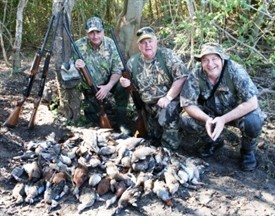 January through March, many North American duck species that are desirable to sportsmen and collectors alike are in prime breeding plumage.  The following duck species are common to Mazatlan Mexico duck hunting:  Northern Pintail (Anas acuta), American Wigeon (Anas americana), Black Belly Whistling Duck (Dendrocygna autumnalis), Fulvous Whistling Duck (Dendrocygna bicolor), Canvasback (Aythya valisineria), Northern Shoveler (Anas clypeata), Cinnamon Teal (Anas cyanoptera), Green-Winged Teal (Anas crecca), and Blue-Winged Teal (Anas discors), Redhead (Aythya americana), Greater Scaup (Aythya marila), Lesser Scaup (Aythya affinis), Ruddy Duck (Oxyura jamaicensis), Gadwall (Anas strepera).  While the teal trio comprises the majority of birds bagged, an uncommon and highly-prized trophy is the Mexican Mallard (Anas platyrhynchos diazi).  Getting your trophy ducks back home is easily accomplished through  GetDucks.com's on-staff, USDA-certified taxidermist.  Forms and instructions provided.
Related Links – Mazatlan Mexico Duck Hunting
View Photo Gallery: Mazatlan Mexico Duck Hunting
Certification of Registration for Personal Effects Taken Abroad (Form 4457)
Importation of Fish and Wildlife Form 3-177
What to Bring (Packing List) – Mazatlan Mexico Duck Hunts
Mazatlan Mexico Duck Hunting Checklist
About the Area – Mazatlan Mexico Duck Hunts
Mazatlán is a Nahuatl word meaning "place of the deer." The city was founded in 1531. By the mid-1800s a large group of immigrants had arrived from Germany and developed Mazatlán into a thriving commercial seaport, importing equipment for the nearby gold and silver mines.  They also founded the Pacifico Brewery in 1900.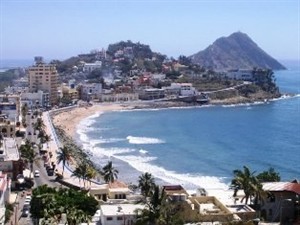 The nickname which has been given to the modern Mazatlan, "Pearl of the Pacific", has nothing to do with pearls, it is a gracious compliment to this very friendly Pacific resort city.  Mazatlan is a very interesting city and embraces tourism with a zest, but Mazatlan is more than just a resort.  When you visit Mazatlan, you should prepare yourself for an active vacation.  Mazatlan has great beaches, many attractions, a variety of interesting historical sites and many interesting monuments spread out all over the city.  Just visiting the monuments and statues could take up an entire day.  Of course, if all you want to do is enjoy the surf and sun, this is OK too.  The beach and the water activities associated with resort vacations is what vacations are all about for many travelers.  Mazatlan offers you many different choices for your vacation, kicked back  – full relaxation, active – adventurous, ecological – exploratory.
Mazatlan has been known for years, dating to film stars such as John Wayne, Gary Cooper, John Huston, and others of their generation, for the excellent sport fishing, and a number of sport fishing fleets exist (light-tackle saltwater fishing for red snapper, for example, is usually prime during the duck hunting months).  Mazatlan is also a base for nearby trophy largemouth bass fishing.  Excellent dove and duck hunting is readily available in the outlying areas. Mazatlan is home to one of the worlds greatest parties, Carnival.  Carnival, usually the last week in February or the first part of March,  is a century-old Mazatlan tradition.
So in addition to excellent Mexico duck hunting for a variety of coveted species, activities that range from fishing, sailing, surfing, parasailing and kayaking to shopping, fine dining and dancing. Mazatlán duck hunting packages provide something for everyone to enjoy.  The local shrimp fleet is the largest in Mexico; fresh seafood is abundant. GetDucks.com's Mazatlan Mexico Duck Hunt Pre-trip includes among other details restaurant names and menu items approved by guests for nearly a decade.
Mean Temperature Range (Rainfall) – Duck Hunting in Mazatlan
Nov 82° – 63° F / 28° – 17° C (0.79 inches)
Dec 81° – 55° F / 27° – 13° C (0.67 inches)
Jan 79° – 50° F / 26° – 10° C (0.43 inches)
Feb 77° – 52° F / 25° – 11° C (0.55 inches)
Mar 86° – 63° F / 26° – 11° C (0.24 inches)
VERY IMPORTANT NOTE – Mazatlan Mexico Duck Hunting
Hunters that try to import ammunition without the proper permits discover the ugly consequences.  This is a serious criminal offense in Mexico, so don't dream of trying it.  Ammunition will available there.
Contact us about your Mazatlan Mexico duck hunt today.