Try this francolin recipe! Francolin are sporty gamebirds, excellent tablefare. Theyre hunted in South Africa over pointing breeds, german shorthairs and english pointers. They're meat is white and mild. This is an excellent recipe we tried while hunting in South Africa. Serve as main dish over pasta or as an appetizer with crackers. Here we used Swainson's Francolin. Substitute your favorite gamebird, such as ruffed grouse or pheasant.
related link: South Africa Wingshooting
Egyptian Goose, which is more closely related to shelducks than other geese, are indigenous to the eastern and southern parts of Africa and have been listed on the Invasive Species Compendium for North America. In South Africa they're agricultural pests and are hunted rigorously. They're among a favorite waterfowl species to target there, and are often pass shot while flying towards decoys. Here, Ramsey Russell provides a run down of Egyptian Goose following a South Africa waterfowl hunt.
related link: South Africa Waterfowl Hunting
Ramsey Russell compares Cape Shelduck with Egyptian Goose. Both are hunted in South Africa. While a goose – and barring any genetic studies that say otherwise – Ramsey is convinced that Egyptian geese are related to shelducks. Comparing wings, there's only one small notable difference.
related link: South Africa Waterfowl Hunting
Southern Pochard (Netta erythrophthalma), a duck species in Africa that is an elegant and sleek dark-colored duck when at rest. In flight, their white wing band is visible that highly contrasts with the rest of the plumage. There are populations in South America, but they're most common in South Africa. Southern pochards are among 3 species worldwide in the genus Netta to include rosy-billed pochards and red-crested pochards. Here, Ramsey Russell gives a run-down of this plain brown but otherwise interesting diver duck species, the last remaining of the Netta genus collected while hunting ducks in South Africa.
related link: South Africa Waterfowl Hunting
African yellow-billed duck are among 13 mallard-like species worldwide. Here, Ramsey Russell explains the process of collecting tissue samples for Dr. Philip Lavretsky's genetic studies database. Africa yellow-billed duck photos and measurements collected were also used in a graduate research program that's developing an artificial intelligence app to speciate, age and sex wild ducks. Hunting is conservation, and the opportunity to collect meaningful biological data pursuant to worldwide hunts is an honor.
related link: South Africa Waterfowl Hunting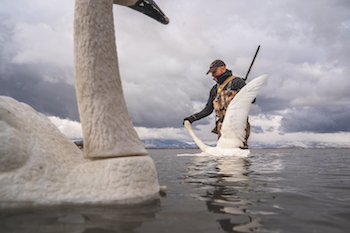 Swans may be hunted with lottery-style or over-the-counter permits in 10 states throughout the US. In most cases, hunting swans boils down to the trigger pull on a single majestic bird, but there's more to the story. Way more. Formerly protected for decades, shooting North America's largest waterfowl species is sometimes misunderstood by hunters and non-hunters alike, but as this video demonstrates, swan hunting epitomizes the role of waterfowl hunters as conservationist. Here's why. Join GetDucks.com's Ramsey Russell as he hunts Tundra Swans in Utah's Great Salt Lakes wetlands, explaining why modern-day US swan hunting originated in Utah and proving again that you don't always have to go halfway around the world to experience something special.
Ramsey Russell Instagram @ramseyrussellgetducks
#getducks #itsduckseasonsomewhere #utahswanhunting #hunting #benellishotguns #bossshotshells #kanatiwaterfowl #kanatitaxidermy #huntingisconservation #chardawg #whyihunt #waterfowloftheworld  Tundra Swan
Duck hunting is subjective. Some hunters collect species. Others are hunting for their next meal, or for fun times among close friends and family. I've learned over time that I'm more a collector of experiences. The world is a whole lot bigger than our back yard. For me, chasing ducks is like walking through the pages of national geography but with a shotgun. ~Ramsey Russell, Experience Collector
It's not just about the killing. In duck hunting, it all comes down to the trigger pull. We're not out there just to watch the sunrise, but through the various aspects of participation true duck hunting instills special relationships with wild ducks that bird watchers cannot. ~ Ramsey Russell
Ramsey Russell talks about why he started carving duck hunting decoys years ago. Duck decoys are used to lure ducks nearer to hunters. Carving duck decoys takes it to the next level. The rewards may be far greater than just dead ducks.