New England Sea Duck Hunting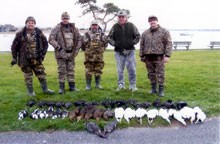 This New England Sea Duck Hunting Package is for perfect avid waterfowlers wanting to experience an exciting change of scenery, as well as waterfowl collectors or taxidermists seeking trophies from along the Eastern Seaboard.   Hunts take place in and around Boston Harbor, in Massachusetts.
Enjoy an eventful morning getting just the right sea duck, and take in the Boston skyline, the lift-off of planes from Logan International Airport, and the varied harbor islands, each with their own character and history.  You will hunt from the shores of some of these islands, depending on specimens desired and weather conditions.  These rocky outcroppings, known locally as "The Five Sisters" and "The Breakwater," offer the perfect early morning vantage point for sea ducks as they come into decoys.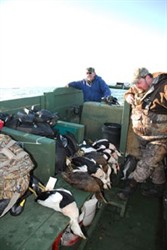 Unlike many guided duck hunts elsewhere, guests are provided with satisfying full-day New England duck hunting.  Morning hunts are usually 1/2 hour before sunrise until you have the birds for which you are looking, and usually end between 11:00 AM and 1:00 PM.  Following lunch in a local restaurant, you'll spend the afternoon in some of the inlets, creeks, and marshes for inshore hunting, or sometimes "up close and personal" jump-shooting, for a variety of waterfowl.  Afternoon hunts plans will be determined by tides and weather conditions.
As a licensed Coast Guard Captain with more than 30 years of experience as captain of deep water or inshore fishing vessels, your host has keen knowledge of Atlantic weather patterns navigating and the rocky coastline of New England.  For 15 years he has been a professional sea duck hunter specialized in the trophy waterfowl quests of hunters from throughout North America. Expect to shoot Common Eider, Surf Scoter, White-winged Scoter, Atlantic Brant, mergansers, American Black Duck and 7 additional species of puddle ducks. Canada Geese are always an option.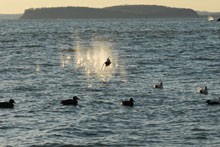 Each day, all birds will be inspected and keepers tagged and frozen.   Set a date for receiving and trophies will be shipped in special insulated containers.  They may also be shipped directly to the taxidermist.  This method of transport has been successfully used for several years and is most convenient for hunters traveling via commercial flight.  The bagging, freezing, shipping container, and labor is all included in hunt package cost.
A local Marriott Hotel provides accommodations at special rates and hunting guests enjoy a very early breakfast buffet each morning before their scheduled hunt departure.  This New England Sea Duck Hunting service is fully equipped with decoys, comfortable boats and blinds.  Your experienced host will work very hard to make each hunt perfect.  All of your birds are retrieved, but please feel free to bring your own dog.  Parties of 5-7 hunters per day are accommodated.
Timing
Massachusetts sea duck hunting late-November through mid- to late-January. Colder the better!
Rates
$1,200 for 3-day (morning-afternoon) New England Sea Duck Hunting.  Sea duck hunts (morning) and backwater estuaries for divers, dabblers and geese (afternoons).
Note: Minimum 5 hunters per group after November 15th.
Included
New England Sea Duck Hunting Package includes unlimited shells and lunch each day of your hunt.  Bird processing and insulated shipping containers are also included in the rate.  Cost of shipping is not included.
Not Included
New England Sea Duck Hunting Package does not include necessary license and stamps (Massachusetts and Federal), hotel lodging, dinner, shipment of birds, air or ground transfers.  Licenses may be purchased online, refer to GetDucks.com Sporting Resources Travel page.
What To Bring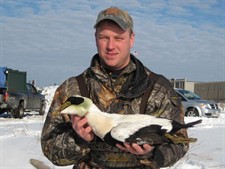 In planning your trip to hunt sea ducks in Massachusetts, remember that the New England weather can be unpredictably cold, snowy, and windy, especially in open coastal waters. Depending on dates booked, temperatures can vary from seasonally cool to downright frigid, to say the least. Plan your outerwear accordingly.
The goal is to not miss days hunting due to weather extremes. Understand that if the wind renders the conditions unsafe, your host reserves the right to continue the hunt at their discretion depending on whether the hunt can be completed safely.
Customer Testimonials