Nova Scotia Sink Box Duck Hunting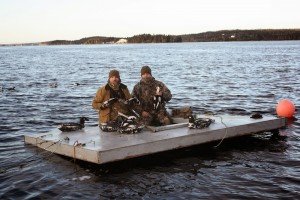 Nova Scotia Canada duck hunting in sink box hunting blinds  is the latest GetDucks.com-exclusive duck hunting adventure to deliver value and the opportunity not only to experience the favored traditional hunting method of big water market gunners, but to potentially add some distinctive duck species to your trophy collection.  Nova Scotia duck hunting from sink boxes is like stepping into history, experiencing the thrill of encountering decoying divers and sea ducks at water's level.  It's definitely a Bucket List hunting experience for adventurous duck hunters that think they've done it all but have not yet been sink box duck hunting in Nova Scotia, Canada.
Banned in the United States pursuant to the Migratory Bird Act of 1918, sink box duck hunting is an extremely effective means of concealing hunters on large bodies of water and putting ducks right where they belong – into the decoys. It was typically the favored by market hunters, and has remained lawful in eastern Canada. Our outfitter has 20+ years professional experience in delivering sink box duck hunts in Nova Scotia for clients seeking to experience this exciting tradition, and he came by it honest – his family has practiced sink box duck hunting for generations.  Sink boxes are custom designed to ensure increased safety and relative comfort while duck hunting.
Available in November and December, these affordable Nova Scotia duck hunts include lodging, meals to include fresh local seafood, ammo (3-inch Kent steel), professional guide services, safe and reliable equipment.  These hunts are conducted from either the northern or eastern shores of beautiful Nova Scotia, Canada, depending on the weather, migrational status, and targeted species.
Primary species taken while sink box duck hunting are long-tailed ducks and scoters.  The region has truly some of the very best black duck hunting in North America.  Black ducks are hunted from boat or shore blinds during afternoons usually. Located 1 hour scenic drive from Halifax, nearby conveniences include a small grocery store, liquor store, a couple restaurants, a bank, a drug store, a hardware store and a few gift shops.  An interesting aside, Halifax bears many reminders of the Titanic tragedy. From the gravestones of victims in 3 cemeteries memorial monuments and preserved fragments of the vessel.
This exclusive Nova Scotia duck hunting package is only available exclusively through Ramsey Russell's GetDucks.com.   Duck hunting in Nova Scotia sink boxes is easily a life-list duck hunting experience.