I choose GetDucks.com because I know Ramsey will move mountains to make an Argentina hunting vacation the trip of a lifetime. We're always made to feel like guests, not customers.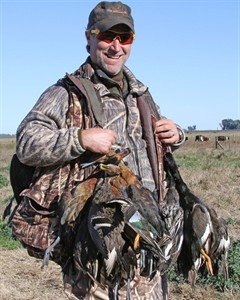 "Hunting is an all year passion fueled by the enjoyment of preparing fields, actually hunting, socializing with friends and reliving the experiences over a scrumptious meal and fine liquors. For forty plus years, I have relished that privilege here in the great State of Mississippi.  During the past ten years, I reached a chronologic age and station in life that afforded the opportunity to chase some of those childhood hunting dreams.  After multiple waterfowl hunts in Canada and a recent African safari, I was keenly interested in high volume dove and duck shooting in Argentina.
I received a multitude of suggestions on Argentina outfitters and lodges.  In my opinion, Ramsey Russell is first class, a pleasure to hunt with and be around. I choose GetDucks.com because I know Ramsey will move mountains to make an Argentina hunting vacation the trip of a lifetime.  Boy, did he deliver this time!
He is well organized, efficient, and thorough. His wife, Anita, coordinates flights, paperwork, and logistics.  Complete turn key services and they are always available to answer any questions or solve travel problems if they arise.  A month before we left, we met Ramsey at Tico's Steak House.  He provided last minute tips and insights about what to expect. Talk about a prelude of things to come!
Words can't adequately describe hunting in Argentina.  We first enjoyed 4 days of superb Argentina duck hunting under very comfortable conditions, with phenomenal numbers and many different species.  Stellar accommodations, parakeet shooting during the midday lull, libations as requested, a multi-course dinner with edible art for dessert made me think I was at the Ritz Carlton instead of a duck hunting lodge.
Ramsey coordinated a personal guide for our overnight in Buenos Aires.  I strongly recommend taking advantage this service.  The guide arranged an excellent dining experience and made sure we caught our flight to Cordoba the next morning and resolved a problem at the airport.
Cordoba dove hunting is indescribable.  Personal guides, more birds than one can imagine, and the opportunity to shoot until literally one doesn't want to shoot any more.  A delightful lunch prepared over an open fire and served with excellent red wine, followed by a short siesta broke the day into two halves, each rivaling the other as to which was more fulfilling.  As one arrives at the estancia, there stands Diego with one's drink of choice.  A stint in the hot tub rehashing great shots and comparing ridiculous numbers of doves taken, followed by a one hour relaxing massage made the meal almost seem anticlimactic or one would think.  The diversity of entre choices prodded me to hit the shower and quickly regroup so as not to miss an opportunity to add a pound.
I had the privilege of enjoying this trip with one of my best friends and his son, and another friend and his stepson.  We enjoyed exclusive use of La Dormida, and Ramsey paired us with some excellent new friends at Jacana.  The intimacy of small groups was perfect.  We're always made to feel like friends, not customers.  I strongly recommend Ramsey Russell as hunting travel agent and GetDucks.com's Argentina wingshooting programs.  I eagerly await the opportunity to return, and yearn for the time when my son will be old enough to share this special experience."
-Shelby Brantley
Referenced hunts: Jacana Argentina Duck Hunting, La Dormida Argentina Dove Hunting