MORE BANG FOR YOUR DUCKS: WILDFOWL'S SURPRISINGLY AFFORDABLE DREAM TRIPS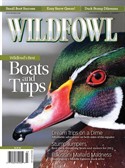 Passion drives the thing. Traveling to hunt is no longer for elitists. One of my favorite hunts last year was a Maine eider expedition.  The guys in camp were regular Joes with guns from DU banquets, and it was their second trip – during a recession! So I talked to Ramsey Russell, a biologist and international man of duck-hunting mystery, who brokers hunts all over the planet. We came up with a list of reasonably priced must-do hunts in the Americas.
This list is merely a good start. Print out these pages, paste them on the fridge, circle a dream hunt or two and go tell your wife what you want for Christmas. You won't have to twist her arm to go to Mexico. Whether it's 37 species you seek or just great experiences, the only thing that happens if you wait, is you get older.
Read full story: More Bang for Your Ducks