Mexico Ocellated Turkey Hunting
* THIS HUNT NO LONGER AVAILABLE *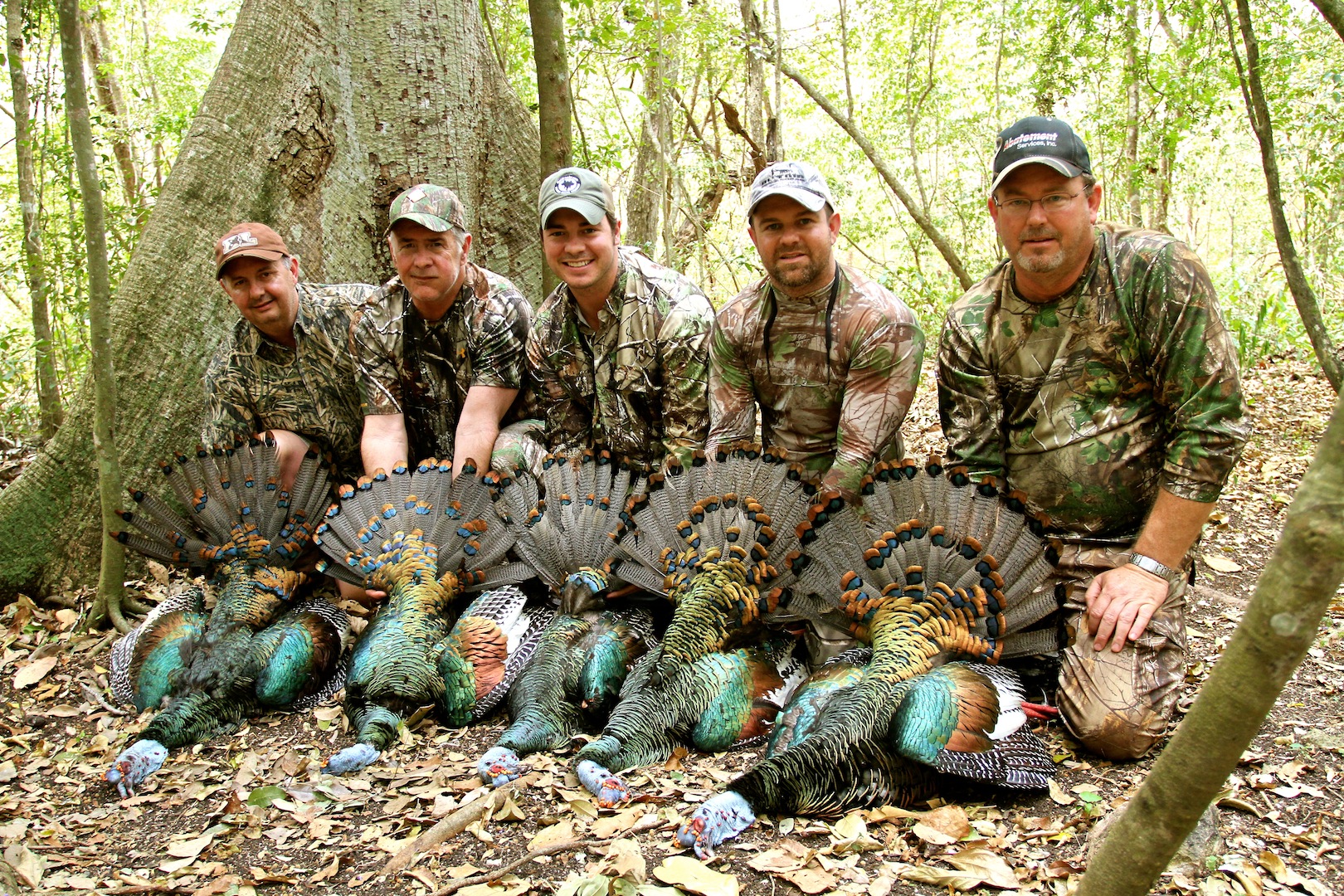 Ocellated turkey hunting to complete the World Slam eventually takes you to the forests of Mexico's Yucatan Peninsula, the only area in the world inhabited by huntable numbers of the colorful, extremely long-spurred Ocellated Turkey. This Ocellated Turkey hunt is located in the heart of the jungle, a short drive from the Campeche airport.
Ocellated Turkey hunts are typically 5 days. A typical day's Ocellated turkey hunt begins with a wake-up at about 4 a.m. After breakfast, hunters depart with their guides to the morning hunting ground, usually within about 30 minutes of the lodge. In the dark, hunter and guide listen intently for the low-pitched song of the male ocellated turkey that begins with the drumming of wings followed by the uniquely beautiful sounds (Click HERE to hear the Ocellated Turkey song). Stalking is a proven ocellated turkey hunting method, as is hunting near water and food sources. Calling can also be effective at times.
With 15+ years experience, our small staff is friendly and knowledgeable. Guide-staff are expert ocellated hunters with a deep knowledge of the region. The host speaks fluent English and will serve as your interpreter during the trip. Their hospitality and guidance will enrich the hunting experience. Trophies will be very skillfully caped and prepared. Importation permit information is provided during the pre-trip planning process, but we suggest you opt to have our ocellated turkey hunting outfitter ship your trophy capes directly.
Ocellated turkey hunts in the heart of the Yucatan Jungle provides a rare hunting adventure that many well-traveled guests say is easily among their favorites. Colorful toucans perching on low-lying limbs, diminutive brocket deer drinking from hidden pools, huge iguanas scaling ancient Mayan ruins, jaguar tracks imprinting bare, jungle soil are among the many memorable sights unique to hunting ocellated turkeys in Mexico.  This is authentic ocellated turkey hunting as it properly should be – an immersive experience with ocellated turkeys and other wildlife right out your tent door.  Many guests say they'd experience ocellated turkey hunting no other way and we agree completely.
This ocellated turkey hunting package include free use of shotguns (12 gauge shotguns in excellent condition) as well as ammunition (typically something along the lines of lead Remington 2 3/4″ BB that is manufactured in Mexico). Additional ocellated turkeys and trophies are also available – gray brockett deer, coatimundi, Great Curassow, Crested Guan and javalina are also hunted with great success.