JEWELS OF THE WATERFOWL WORLD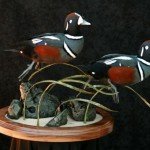 The remote habitats, difficulty of hunting and ornate plumage of many ducks haunt some waterfowlers to the point of obsession and world travel. But which species are the most coveted jewels in the waterfowler's crown?
Read More: Jewels of the Waterfowl World
SNIPE HUNTING – FOR REAL


There are plenty of outdoor activities in February that are great exercise and provide an excellent opportunity to put game on the table. One such activity is snipe hunting.
Read Story: Snipe Hunting – For Real